This is a sponsored post.  As with all the products I blog about, I use them personally and opinions are my own, I was not influenced in any way by the compensation I received.
By now you have figured out that I am not the greatest cook in the world. I need every little help that I can get. I seem to never get my meat cooked just the right way. It's either under or over done. With that being said you can probably guess how excited I was to get a chance to review a couple of things from Kitchen Advance!
About Kitchen Advance: 
"By sealing your food air-tight with the Seal 'N Fresh™ Vacuum System, your food retains 100% of the moisture, flavor and nutrients! Your food cooks in its own natural juices, evenly at a precise temperature all the way through. That means from edge to edge your foods cook perfectly. The magic is that your food never cooks past the set temperature and it stays perfect until you are ready to serve"
"The secret is in the innovative Stay-Clean microtexture that quickly guides the drippings off the board into a basin, holding over two cups of liquid. Made of high-density material, the PerfectChop won't dull knives, harbor bacteria, or absorb odors. The sturdy, lightweight construction makes it great for everyday use. The PerfectChop is also reversible: just lift and flip. Plus, the non-slip base keeps the board securely in place."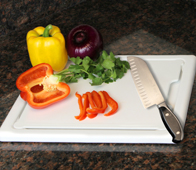 My Thoughts: 
I am in love with the Aqua Chef! It looks like a fryer I use to have. In a way it has the same concept, but healthier! It's super easy to clean! Any fool (like me!) can cook the perfect chicken, seafood, beef, and even DESERTS!! It cooks the meat perfectly. It doesn't over cook it and you don't run into the risk of not cooking it enough. The first thing I cooked in it was chicken. Vacuum sealing the chicken in the bags were super easy. Once the chicken was in the bags all I had to do was place them in the Aqua Chef. Then they cooked for two hours, and came out perfectly cooked. Meaning nice and juicy! The chicken was a hit for everyone in my family! The Aqua Chef came with a cook book that would give you plenty of ideas and options.  I haven't tried yet but I am pretty excited to try the Custard with Whipped Cream and Chocolate.
I hate cutting up tomatoes! The juice gets everywhere on my counter. With the perfect chop I don't have to worry about it. The juice goes underneath the topper. Which you can flip to cut up something else and not have to worry about cleaning up your cutting board first!  It is made of material that makes it scratch, stain, and order resistant! Which I love because just last month I had to throw out a cutting board because of the stains. You also don't have to worry about your knives getting dull. The number one thing that I loved was how easy it was to clean up my board and the mess. I didn't have to clean up the counter. All I had to do was empty all the juice and throw it in the dishwasher!
Between the Aqua Chef and PerfectChop cooking had become a lot easier for me! My family (especially my husband) has been very surprised with the new foods(and quality of them!) that I have been trying!
Guess what? For Blogmania13 Kitchen Advance is giving away one of each! Just visit this link here! GOOD LUCK!! 
Connect with KitchenAdvance