IPG Books: Something for everyone!
I have three kids and they ALL love books. Even my 19 month loves books! Reading is important concept and skill in life. So I will do everything I can as a mom to encourage their love for reading!  That's why I was very excited to try Busy Baby and Monsters Don't Cry.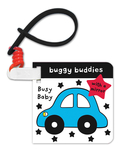 About Busy Baby (Campbell Books, October 2012, ages Up to 2) written and illustrated by Jo Moon.
The latest of the innovative Buggy Buddies books—a series of small board books for the very young that can clip onto strollers, high chairs and car seats—Busy Baby introduces babies-on-the-move to bright colors, fun patterns, everyday objects and even a shiny mirror.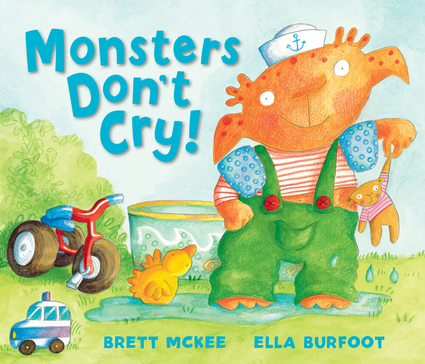 About Monsters Don't Cry (Andersen Press, November 2012, ages 3-5) by Brett McKee.
Everyone has a reason to cry every once in a while, even monsters. No one knows this better than Archie, a young monster who keeps getting into painful and scary situations, like falling off his bike or getting lost in a maze. Time after time, Archie holds back his tears since "monsters don't cry." But soon enough, Archie encounters a situation that truly merits tears, and discovers that sometimes crying is the best way for little monsters to relieve tension. The story is related through repetitive rhymes and the bright illustrations feature commonplace activities that will help children empathize with Archie.
My 19 month old feel in love with Busy Baby.  It was a book that she can look and play with forever. It had hard pages so it didn't tear. Her favorite page was the one with a mirror on it. She kept looking at the page and saying baby over and over. It also attached to her stroller so I didn't have to constantly pick it up. My son loves monsters! So I knew right away he would love the book. I love the fact it teaches him an important lesson. That it's okay to cry and in fact can be helpful! I have said it before that books and stories are the best way to teach little ones life's tough lesson!
Connect with IPG
Purchase Book
Monsters Don't Cry $15.00 Online
Disclaimer: I received one or more of the products or services mentioned above for free for the purpose of this review. I only recommend products or services I use personally and believe will be good for my readers. This post may contain affiliate links. I am disclosing this in accordance with the Federal Trade Commission's 16 CFR, Part 255: "Guides Concerning the Use of Endorsements and Testimonials in Advertising." The opinions expressed in this post are entirely my own and uninfluenced by compensation.