This is a Sponsored post written by me on behalf of Nanolia Worldwide for SocialSpark. All opinions are 100% mine.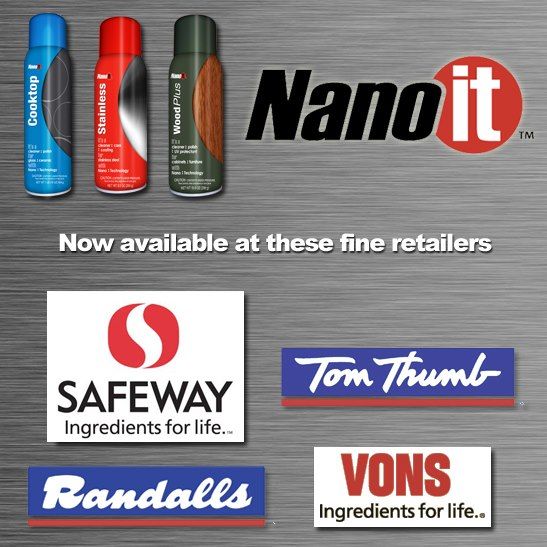 We all hate cleaning, right? But you have to admit it goes a lot better if we use products that work great. Well Nano-iT has some pretty great products that will help.
Nano-iT WoodPlus is specifically formulated for cleaning, polish, and protecting wood cabinets and furniture. It will work on all painted, stained, or unfinished wood surfaces. Here are some of the great features and benefits:
restores the original appearance and luster of wood
oil free hydrophobic formulation of waxes and photo oxidation inhibitors for protection against the adverse effects of UV light
provides a shiny gloss surface protection
long lasting, easy to use, works on many types of wood surfaces
Nano-iT Stainless Cleaner is next generation stainless steel cleaner and polisher. It uses nano based technology to clean, polish, condition, and shine stainless steel without any streaking. Here are some of the great features and benefits:
use on copper, chrome, aluminum, fiberglass, kitchen appliances, outdoor grills, automotive trim or bathroom fixtures
oil-based liquid formula
provides a micro-thin protective layer that resists fingerprints and smudges to make future cleaning easy
leaves microscopic coating which absorbs into the surface
nanotechnology encapsulates dirt and lifts it away like a magnet
makes your stainless steel shine like new
Nano-iT CounterTop Laboratory proven, new generation, environmentally friendly kitchen countertop cleaner without the need for abrasive cloths.  It provides a unique method of removing the most stubborn dirt, grease and stains such as coffee, wine, oil and even chewing gum..
Bio-degradable and environment friendly
Cleans deeper than conventional cleaners
Removes heavy grease without scrubbing
Will not scratch any surface and is safe on all coated surfaces
Does not harm any water tolerant surface or protective coating
Don't these sound like helpful products. My favorite would be the Nano-iT Woodplus cleaner or the Nano-iT CookTop . I had a house that had tons of wood cabinets and it isn't easy to clean. This would have made my life a whole lot easier.
Now, you can't tell me after reading all this great information about these products that you don't one. If you do you can find them at all Safeway family stores. Some of the stores are Vons, Randalls and Tom Thumb. Now here comes the best part. I have a coupon that you can use to get one.  Which one would you get to use? How would you use it?