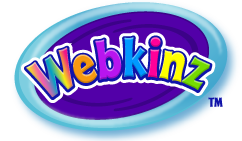 Easter isn't too far off. I don't know about you, but I don't think my kids need a whole lot of sugar. So we always try to include a special gift in their Easter Basket along with some candy. That way they aren't getting just candy which will be gone in a matter of seconds but also a special toy! This year I decided to get my oldest a Webkinz.
The thing I love most about Webkinz is that parents and children can play alongside each other while building Kinzville, the interactive virtual town where Webkinz pets are live.  Webkinz Friends is free and you are not required to purchase a Webkinz Plush Pet. But I strongly recommend it. It will make the game more real for your child. Honestly, it's part of the excitement of Webkinz.  Each Webkinz™ comes with a secret code that can be used to open up an online world where members can "adopt pets, play games, go on quests, create rooms and keep their virtual pets happy and healthy". The Webkinz plush pets are very cute, cuddly, and they have a HUGE selection!
My oldest one loves stuff animals and he loves computers. So what better way to join together his two passions then with Webkinz. I challenge you to visit Webkinz and pick just one Webkinz you would want! I bet you can't. I know I can't. There are at least 10 that I think are very cute and adorable!
Connect with Webkinz
Facebook
Twitter
Disclaimer: I received one or more of the products or services mentioned above for free for the purpose of this review. I only recommend products or services I use personally and believe will be good for my readers. This post may contain affiliate links. I am disclosing this in accordance with the Federal Trade Commission's 16 CFR, Part 255: "Guides Concerning the Use of Endorsements and Testimonials in Advertising." The opinions expressed in this post are entirely my own and uninfluenced by compensation.