A dog is a man best friend! I know you have heard that sane before. Our pets are our best friends. For many of us the become a part of the family. That's why it's very important for us to take care of them and make sure they are healthy. Did you know that dogs can develop diabetes too? I didn't. They new vitamins just like we do to help prevent getting sick. The below was provided to me to help facilitate my review. All opinions are my own and honest. I am disclosing this in accordance to FTC Guidelines.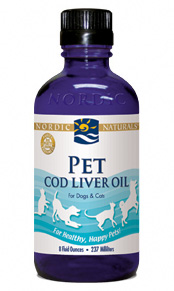 I recently had a chance to review Pet Cod Liver from Nordic Naturals. When I was reading the Nordic Naturals site I learned that traditionally Norwegians used cod liver oil for the nourishing and healing benefits of omega-3 fatty acids DHA and EPA and the naturally occurring vitamins A and D. The pet cod liver oil is derived exclusively from the livers of wild Arctic Cod (Skei) from Arctic Norway. 


One thing I liked about the Pet Cod Liver is that it's easy to use! All you have to do is put the oil onto the dog food. You can use it by itself, but it will probably taste better if it's with food. (Personally for  me it was less of a fight for the dog to take it) Some things to keep in mind is that you need to use the bottle up with in twelve weeks of opening the bottle and also keep it refrigerated. 


Pet Cod liver can be used for both cats and dogs.