Loosing weight is a hard thing to do for anyone. You are always finding or hearing of different programs that are for loosing weight. I know I am always wondering does that really work? How do the food taste on the diet? Is it hard to follow? With so many options of plans it's hard to find the perfect one. You got to just try them until you find one that works. The point is never to give up!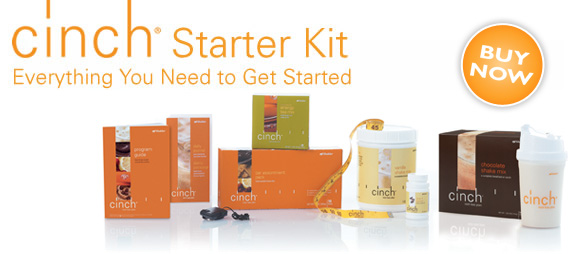 I recently decided to try

Cinch

by

Shaklee

. I received  the

starter kit

which is good for 30 days. I am only on day 4 of the 30 days. I was really impressed with what all you get with the starter kit. It's actually everything you need. Except for your dinner meals, which is basic groceries. 
Vanilla shake mix canister (15 servings)

Assorted Cinch shake packets (14 packets)

3-in-1 boost™(42 count)

Assortment pack snack bars (10 count)

Energy tea mix (28 sticks)

Daily journals (2)

Cinch program guide

Cinch logo shaker cup

Cinch pedometer

Cinch tape measure
So you get everything you need. You get the tape measure to measure your body and see how many inches you lost. You get the pedometer to keep track of how many miles you walked or run. You even get two daily journals to keep track of your progress. 
The daily journals last a week-long.  The daily journals are very easy to feel out. They take out the guessing game for sizes and how many portions you need of what for your daily calorie intake. I like to be organized and this works great!! 
One of the things I wonder when trying a new diet plan is how well can these things actually taste. After all they are supposed to help us lose weight, and things that are supposed to be good for you don't always taste the greatest, Right?
Wrong!  The Vanilla and Chocolate shake both taste good. I got to try three different bars: Peanut Butter Crunch, Chocolate Decadence, and Lemon Cranberry. All three of them are good, but my favorite one was the Lemon Cranberry. Which shock me. I usually am all about the Peanut Butter stuff.  I am not a big tea drinker, but even their Energy tea is good. 
Granted I am only on day 4 of this diet, but I feel the first three days have been good. I haven't felt hungry. Although I have caught myself wanting to eat, but only for something to do. I wasn't really hungry. One down fall of being a stay at home mommy. The food is always right there.  I know that's something I have to work on.
I know making changes or improving our life is hard, but needed. What's one thing that you feel like you can improve on? 
Disclosure: I receive sample(s) for purpose of testing and review. My opinions are my own and may differ from those of your own. I am disclosing this in accordance with the Federal Trade Commission's 16 CFR, Part 255: "Guides Concerning the Use of Endorsements and Testimonials in Advertising."