Were you there for the #GracoSafety event? If not, you missed a lot of fun!  
I especially enjoyed meeting two fellow bloggers: Enza with Enza's Bargains & Molly with A Day In Molly Wood !!
My dad is a paramedic so I have heard several horror stories about car-seat accidents. Thus making  car-seat safety very important to me. That's why I enjoyed sharing about the brand new Graco SnugRide Click Connect 40 to several mommies, soon to be mommies, grandmas, aunts, and daddies! If you missed Saturday no worries, I will give you brief recap of some important information on why this car-seat is so special!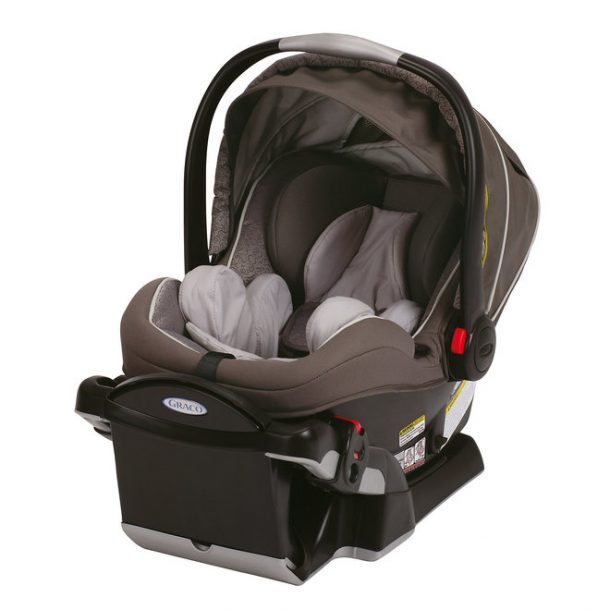 Quick Facts
Price: $219.99 at Babies"R"Us
Available: Online and in stores at Babies"R"Us
Colors: Mena™ and Moonstruck™ fashions
Features:
* 4 – 40 pound weight limit— a full 2 years
*  Base adjusts with 8 recline positions for most leg room of any rear-facing car seat for baby comfort
*  The Simply Safe Adjust™ harness systems allows parents to adjust the harness and headrest with just one hand to fit their baby's height as their baby grows, all without having to rethread the harness for extra convenience.
*  Click Connect™ attachment which allows parents to easily transition their babies from the car seat to the stroller through a simple, but secure, one-step "click."
Several of the mommies that already have children, but are expecting another one said there favorite part of this car-seat was the Simply Safe Adjust harness and the fact that you only needed ONE car-seat! They also liked the fact that you can hear a "click" to insure you that the child is in the base or the stroller. One grandma said that she just loved the look of the car-seat and that it came with all the padding! 
And the winners are: 
Did you miss the event? Well, here is your chance to win a $25 Gift
Certificate to Babies R Us!!
The Graco SnugRide® Click Connect™ 40 – the first and only newborn to two-year infant car seat that actually grows with your baby from four pounds all the way up to 40 pounds. The car seat is designed for a parent on the go. The infant car seat can be easily removed from the base and used as a carrier when the infant is small, providing portability and convenience so you can easily move your infant in and out of the car without disturbing them.
The American Academy of Pediatrics recently made the recommendation to keep all children in rear-facing car seats until the age of 2. Graco set out to make this product so parents can keep infants rear facing longer while still keeping them comfortable.
This is a sponsored post written by me on behalf of Graco. The opinions and text are all mine.
Good Luck!!