This is a Sponsored post written by me on behalf of Miracle-Gro for SocialSpark. All opinions are 100% mine.
Houseplants are pretty to look at, fun to grow, and for some people, a relaxing hobby. But houseplants do an important job too. They help the air quality in our homes. There have been tests that show 15-18 houseplants of good size can improve the air in an average house of 1,800 square feet.
I can't count how many times I have had people tell me they can't keep a houseplant alive. The number one reason that people can't grow houseplants is because they don't take the time to find out what the requirements are for the plant they have. I have a Peace Lilly that requires water every 3 days. It is a thirsty little thing! Then I have an Aloe Vera plant that wants water every 3 weeks or so. The number  2 reason people can't grow plants is because they don't have a good beginning. You wouldn't build a house without first laying a solid foundation, right? The same principal applies to plants. They need the correct soil, the correct size pot, and the correct amount of  plant food from the beginning.
So what if I could show you a nearly indestructible way for you to have beautiful houseplants?  With this easy step by step guide and a little help from Miracle Gro's The Gro Project you could have a beautiful plant in no time at all!
1. The first thing you need to do is decide exactly what kind of plant you are wanting. This takes a bit of thinking because you need to be able to care for it. For the purpose of this post, we are going to made a fairy garden, which is planting a variety of plants known as succulents in one container. They require very little food and water, and the sunlight that comes through your window will be sufficient. They are easy! I bought my succulents from my local greenhouse. You can get them at Wal-Mart, Lowe's, or places like that also.
2. The foundation. My reason for a succulent fairy garden is simple. They are fun. You can put them in any kind of container that you want. I used an ice cream bowl, a cereal bowl, a flower-pot, a coffee cup pot, and a narrow dish because I am giving them as gifts and I was trying to match the personality of each recipient. Here is the important part. Succulents require a well draining soil. Like a cactus soil. But don't quit on me yet.  Miracle Gro  Cactus Potting Soil is perfect for what we want here. I bought a small bag for less than $5.00 and all the guess-work has been taken out. Again with the easy, right?
3. Bring all your plants, your pots, and your soil home, and start potting. Have fun! Mix and match. I tried to put a little of everything in each pot, but you don't have too. You can put them together any way you like. Succulents are a hardy plant. You don't have to put the roots just so. Some of them, like the hen and chicken, you just lay them on top of the soil and they put their own roots in. 
4. You now have a houseplant! You can add a few things to make it more personalized, or you can leave it just the way it is. Some people add pebbles to make them look prettier, but I went with the natural look.
5. Like all plants, our fairy gardens are going to need some upkeep. They need water from time to time, but not alot of water and not very often. These are a "forgettable" plant. The easy rule for watering them is just stick your finger into the soil about knuckle deep. If it is dry all the way down, give them some water. Water them thoroughly. It averages out to about once every 3 weeks. But if you forget for another week or so, they aren't going to die on you! They also need a little food from time to time. But Miracle Gro has you covered here too! Just pick up a bottle of Miracle Gro Cactus Plant Food and follow the directions. The guess work is taken out here too. You add it in the water. It's that easy!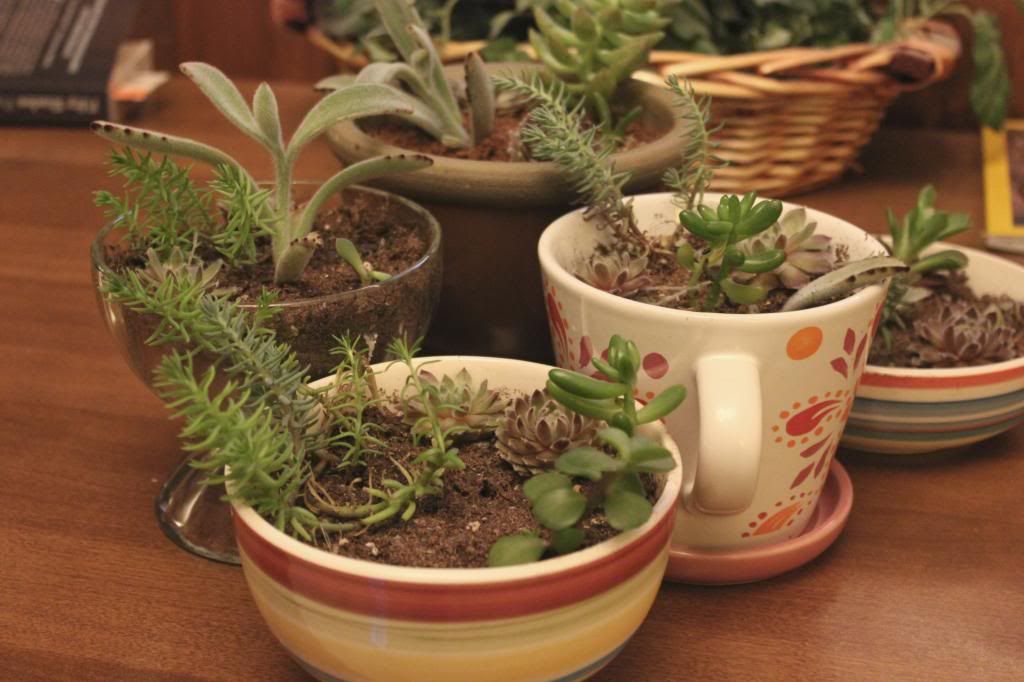 I can't stress enough just how easy this project was. Or how fun! These would make awesome gifts for teachers, coaches, Mother's Day, Grandparents Day, and in my case, co-workers. The possibilities are endless. It makes a good project to get kids interested in gardening. The Gro Projectt has many more ideas for fast, fun, and easy garden idea's you can do with your kids to get them, or keep them, interested!
If you enjoyed this, Miracle-Gro has many more online tutorials and videos to help you along, from beginner to advanced.
There are many great products by Miracle-Grow that can help you do any project. My three favorites are LiquaFeed All Purpose Plant Food Advance Starter Kit , Shake'n Feed All Purpose Plant Food, and Moisture Control Potting Mix. If you aren't sure where to start you can Follow Mircle-Grow Pinterest page. It's a perfect place for gardeners to come together and share their gardening stories! You can also find fun garden projects. They are helpful, not only with products that make our jobs as gardeners easier, but also with tips and advice.